To all our stakeholders,
When our 2021 fiscal year (FY21) began in August of 2020, prospects for the coming year were uncertain. We were six months into the COVID-19 pandemic and experiencing the virus's second major wave. The economy had contracted sharply in response to the pandemic, and no one knew when vaccines would be available to slow the spread of the virus and create an opportunity for the economy to bounce back and begin to recover.
At Grant Thornton, our purpose is to make business personal and build trust into every result, so we adopted three clear priorities for our firm at the outbreak of the pandemic:
 
To take care of our people;
To be there for our clients; and,
To keep our business strong.
We were succeeding on each front, and many of our teammates and clients were still working on adapting to the new fully remote work environment. We began the fiscal year in a state of almost constant change and innovation, as we brainstormed new programs and initiatives to keep focus on what we deliver as well as how we work to go beyond expectations for all our stakeholders.
Twelve months later, at the end of our fiscal year in July 2021, we had achieved some remarkable results. Our net revenue for the year was $1.97 billion, more than ever before. Our client satisfaction scores hit five-year highs. We brought numerous new innovative solutions to market. Our latest quality inspection results once again put us among the leaders in our profession. In May, we began offering integrated environmental, social and governance (ESG) services to our clients, for which we see great client demand in the coming years. In our own firm, we doubled our ESG scores as evaluated by an independent assessment. We reported diversity, equity and inclusion (DE&I) data publicly for the first time, and significantly increased our commitment to DE&I progress within our firm and our profession.
These would be remarkable achievements in any year – and FY21 was certainly not just any year. We faced the professional challenge of our lives and delivered the best performance of our careers on many fronts.
In this letter, I will share some of our key areas of focus over the past year, the challenges we took on and the results we achieved. Each topic will include links to more detailed information on our website, www.grantthornton.com, if you would like to learn more. I appreciate your interest in our firm and invite you to read on.
Taking care of our people
There were three major areas in which we worked to take care of one another in FY21. We created new programs and benefits to help support our colleagues throughout the pandemic; we shifted permanently to a flex work model; and we accelerated our work toward even greater diversity, equity and inclusion (DE&I) in our firm and our communities.
Throughout the pandemic, it was clear that all of us were challenged in different ways at different times adjusting to our new environment. Straight away, we made the bold decision to avoid layoffs and furloughs. We also responded by listening to our people, and creating programs and resources that matter the most at times that mean the most.
These included access to enhanced benefits related to psychological wellness, childcare and tutoring; Grubhub stipends and paid memberships to DinnerTime to help with home meal preparation; additional firmwide holidays and amplification of our flexible time off (FTO) and flexible work arrangement policies to give colleagues greater autonomy in balancing their days; and new approaches to professional growth and development opportunities and recognition programs. We also were able to provide meaningful increases in average annual bonuses, salary adjustments at fiscal year-end and various relief payments. All activities were grounded in our firm's commitment to our people and helped us maintain our workforce through the pandemic and recession.
We are continuing to explore new and innovative ways to support our teammates as we all adjust to new ways of working and living.
One major change we made in the spring as the pandemic ebbed and more offices and public spaces began to re-open was to make a permanent shift to a flex work model. In this model we stress paying attention to four points of importance – our clients, our teammates, our firm and ourselves. This change will give all our teammates more opportunities to balance work at home, in the office or at client sites depending on business and personal priorities and responsibilities.
Our offices have begun transitioning from transactional private workspaces to culture hubs – used for collaboration, socialization, training and development. Face-to-face client visits will be less frequent, occurring at major inflection points in an engagement (e.g., engagement kick-offs or delivery of final work products), as required to fulfill professional standards, or at the client's request. This new approach allows us to remain agile in the modern world, deliver quality results for our clients and stay committed to supporting colleagues' personal goals.
A third major area of emphasis for our people last year was accelerating our work on DE&I initiatives. We made a series of commitments and policy changes last year in response to the renewed social justice movement in the country that followed the horrific death of George Floyd in Minneapolis, and throughout FY21 we worked diligently on implementing these changes.
We emphasized comprehensive DE&I education, including unconscious bias and micro-aggression training. We collaborated extensively with our business resource groups (BRGs) to boost their decision-making and influence within the firm. We also updated our succession planning and leadership selection processes to include DE&I criteria.
Heeding the truism that "what gets measured matters," we also published our first-ever annual DE&I Report, publicly reporting on our progress in building more diverse teams across every part of our firm. We are also pleased to have admitted our most diverse class of new partners in our firm's history.
While the past year was filled with uncertainties and unexpected challenges, we demonstrated the value of strong relationships and that how we work matters as much as what we do. We were honored with a wide variety of recognitions and awards, including high rankings in the Corporate Equality Index, the Disability Index, Seramount's 2021 100 Best Companies list, and a 2021 Excellence in Engagement award from Quantum Workplace, among many others. We are so pleased to sustain and advance our commitment to building a workplace that uplifts and empowers every teammate.
Being there for our clients
We're collaborators – obsessed with quality and ready for anything – who understand the value of strong relationships and going beyond expectations for our clients. We challenge the expectations of business. And we help our clients do the same through a variety of services and capabilities – including our three primary service lines, Audit, Tax and Advisory Services. Being there for clients throughout the pandemic has been of paramount importance.
Our focus on providing distinctive client service through the pandemic led to client satisfaction scores that rose on all five of our key performance indicators (KPIs). We built on our historically strong performance through a client experience initiative focused on aligning colleagues' client service behaviors to our firm's culture, values and purpose. Remarkably, our overall client satisfaction score in FY21 was our highest in more than five years.
As a professional services firm, our most important metric in the service we deliver to clients is quality. The Public Company Accounting Oversight Board's annual inspection reports have consistently placed our audit quality measures among the leaders in the industry. This year's audits were made more challenging by several external events – the pandemic and the Texas winter storms, for example – but our team adapted quickly to new remote audit processes and delivered excellent results.
We released two new technology-based business solutions that will help enhance quality results for all our services in the future, not just audits. Engage is an enterprise engagement delivery tool that provides a common and easy-to-use document collaboration platform for client engagements. Convene is a document workflow tool to help our engagement teams increase efficiency in the document management process, streamline requests, and reduce email traffic.
Providing our clients reliable, objective and actionable information about the domestic and global economies is a critically important challenge for us – and in fiscal year 2021, this continued to be a complex task.
When economic conditions suddenly shift – as they did in 2020 and 2021 –Grant Thornton seeks new data to forecast what's ahead and help companies prepare. In addition to labor markets and the Federal Reserve, she specializes in analyzing secular changes in the economy that are distinct from the usual business cycle. Her analysis of COVID's impact is helping our firm and its clients remain agile.
In addition to the core services we offer, we also go to market in teams that specialize in 15 major industries, with a focus on select geographies, whether in the United States or in markets around the world. This combination of service, industry and geographic focus enables us to bring the right solutions, knowledge and people together to tailor our approach to each client's needs.
For more information on our industry practices, please explore the Industries tab at the top of any main page on our website. For more information on our 51 offices in cities across the U.S. please visit our Offices page.
As we work with clients to solve their business challenges and help them improve their operations, our teams are always looking for opportunities to innovate and create better ways to get things done. This spirit of innovation is now spreading across our firm, as our colleagues are using alyx™, our firmwide platform for developing business solutions, to bring new ideas to market.
We were pleased and excited last year when our firm won a Gold Stevie Award for alyx. Some examples of new services developed through the alyx platform over the past year include:
SOC.x – streamlines systems and controls processes, improving efficiency in the production of attestation reports and certifications
cta.x – automates control testing while efficiently extracting insights and value, turning a traditional testing burden into a competitive edge
te.x – automates implementations and upgrades for Vertex tax software
ptvault.x – maps property data to tax regulations, pairs mapping with guidance from property tax specialists for efficient management of tax compliance, exposure, valuation, administration and more
In all the work we do for our clients – whether providing traditional accounting services or innovative new technology solutions – we get a big boost from our team in Bangalore, India. We call them INDUS – a combination of India and the U.S., and a reference to one of the most important, life-sustaining rivers in Asia. This team of experienced, talented professionals adds value to all our engagements; enables us to keep business moving around the clock; and enhances the efficiency and quality of everything we do for our clients.
Keeping our business strong
The lifeblood of any business is revenue and profitability – the direct result of delighted clients and disciplined cost control. Growing revenue and running a profitable business is what gives us the opportunity to continue serving clients, providing professional opportunities to our people and supporting our communities.
To that point, I'm happy to report that we continued to profitably grow our business in FY21. Overall revenue for the firm was $1.97 billion, a new record for our firm. Continued effective cost control led to higher growth in profitability, enabling the meaningful increases in our employee bonus pool and salary increases that I mentioned above.
A key area of focus to keep our firm strong has been to accelerate the development of our Enterprise Risk Management function. To lead this work, we named Beatrix Bernauer chief risk and compliance officer.
One area that is growing rapidly in importance, and for which we have good news to report, is data privacy and security. Following an independent third-party audit, we achieved certification of our privacy information management system under the ISO 27701 standard. ISO 27701 certification demonstrates our commitment to data privacy and to be a trusted steward of personal and confidential information in our possession.
We continued our public policy advocacy work and in-depth legislative analysis throughout FY21 with the help of our Public Policy team. Through tight-knit connections with policymakers and consistent engagement with the AICPA, the Chamber of Commerce and others, the team helped our firm and its clients remain agile amidst dizzying legislative developments.
Public Policy supported enactment of important legislation like the Equity Act, which will advance our values of diversity, equity and inclusion. The group provided insight into effective supply chain and reshoring policies and opportunities for climate resilience, while advocating for the addition of accounting to the list of STEM professions, as well as the enactment of the Chai Suthammanont Remembrance Act.
We also worked to strengthen our global network by helping to create a new five-year strategy for GTIL. This new strategy focuses on international growth, risk management and culture. For additional information about the Grant Thornton International, Ltd. (GTIL) network of member firms, or any of the 140 countries where our global network does business, please visit the GTIL website.
These actions and initiatives will contribute to our firm's continued strength and vibrancy, giving us an ongoing opportunity to serve and support all our stakeholders.
Supporting our communities
In addition to the three core goals we put in place at the onset of the pandemic related to our people, clients and firm, we also made support of our communities a major focus of our efforts in FY21. We believe strongly that businesses should operate in ways that are sustainable for our communities and our environment, and have increased our efforts on ESG initiatives over the past year.
One goal we put in place last summer I am very pleased to report: We have committed to reducing our firmwide carbon emissions by 55% by 2030. This is an ambitious but achievable goal that will help contribute to a cleaner environment for all of us in the future. You can learn more about all our ESG work in our annual Sustainability Report, which provides an in-depth analysis of our progress on ESG topics and initiatives we have in flight to accelerate our progress.
Our firm believes in underdogs – everyday heroes that enrich our lives, address human need and embrace tough challenges. Throughout FY21, we continued to support everyday heroes and the emerging non-profits they lead through our national Purple Paladin program.
Through this program we provide early stage nonprofits with funding, business and volunteer support, while using our platform to raise awareness of their organizations. Our Purple Paladins use innovative solutions to address important, diverse issues including inequality, inclusiveness, mental health and wellness and more. We invite anyone to nominate a Purple Paladin for consideration and are committed to helping these organizations go from start-up to unstoppable.
Learn more about our Purple Paladins here:
Earlier this fall, our firm made an important decision about the future leadership of our firm that I believe bodes extremely well for a prosperous and vibrant future. Our Partnership Board named Seth Siegel, our South Florida managing partner and a 25-year colleague on our team, as our next CEO. Seth will take over next August, after I reach my mandatory retirement date at the end of July. He will be eligible to serve two four-year terms as CEO.
Seth is a visionary leader who cares deeply for our clients, colleagues and communities. He will lead our firm by empowering individuals to go beyond expectations by putting an emphasis on collaboration, readiness and maintaining valuable relationships with our colleagues, clients and communities. I could not be more pleased that we have chosen him to lead our firm in the future.
As we look ahead to next year and the years to come, there is so much that gives me great confidence about our future. We are a firm with a unique culture that provides a distinctive experience and industry-leading quality results to our clients that go beyond their expectations. Our business is growing, our brand recognition has never been higher, and our teams are developing a steady stream of innovative new products and solutions to address our clients' most challenging business problems.
We are ready – ready to build strong relationships with our clients; ready to help solve problems and deliver value and quality; and ready to go beyond expectations to make business more personal and build confidence into every result for all those we serve.
I appreciate your interest in our firm and welcome your feedback.
Sincerely,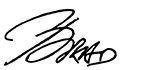 Bradley J. Preber
CEO
"Together, we're ready for what's next."